The award marks the 14th consecutive year that Hemsley has been included in one of Training Industry's Top 20 L&D lists.
Selection for the Online Learning Library sector underlines Hemsley's ability to deliver digital/online learning & development solutions based on four key criteria, comprising:
Breadth and quality of courses, features, and capabilities
Industry visibility, innovation, and impact in the online learning library market
Client and user representation
Business performance and growth.
As organizations around the world try to match their employees' L&D requirements to their changing hybrid/remote work patterns, Hemsley continues to innovate strongly in the design, development and delivery of digital content assets to meet these many different needs. 
The company's learning solutions are helping anyone from individual employees to entire workforces adopt highly flexible, engaging and agile approaches to learning - embedding new skills and behaviours in the flow of their work and building momentum across the workforce for individual learning and wider transformative change for the organization.
Hemsley's learning asset portfolio includes video, animations, quizzes, e-books, infographics and podcasts while the company also delivers customised training, technology and services including learning hubs, outsourced L&D and engagement support, and expert-guided training and coaching. 
The listing is only the latest in a series of industry milestones for Hemsley in 2023: the company was included in Training Industry's Top 20 Leadership Training Companies in April and in the same month, was named a Potential leader in the 2023 Fosway 9-Grid™ for Digital learning by Fosway, Europe's #1 HR Industry analyst.
Sally Hurrell, Interim CEO, Hemsley Fraser, said: "We're thrilled that our focus on new and highly-engaging digital learning strategies and ground-breaking content solutions has again been recognised by Training Industry. 
"We continue to work very closely with customers to understand their fast-changing L&D and learner engagement needs and the constraints on them. In today's tough economic conditions, organisations need the best ways to build critical mass for learning in the flow of work or for new types of hybrid and remote arrangements."
Jessica Schue, market research analyst at Training Industry, Inc., said: "The companies chosen for this year's Top Online Learning Library list feature strong, comprehensive solutions and a wide array of quality courses within their libraries. These companies offer impressive tools, assessments and advanced technologies for better and more accurate learning pathways to better the learning experience and keep engagement high." 
Tom Whelan, director of corporate research at Training Industry, Inc, stated:"The unique and emerging companies chosen for this year's Online Learning Library List represent a strong set of providers with specialised strengths in topics, industries, tools and more. With strong portfolios of courses, these companies help organizations close employee skills gaps and improve learner retention with up-to-date content."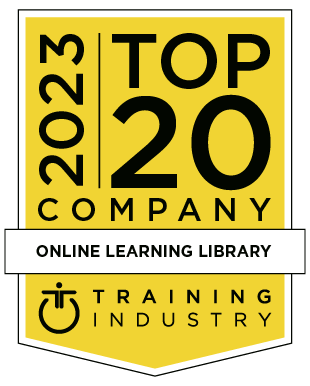 READY TO GET STARTED?
Why not speak to one of our friendly learning advisers?
Tell us more about your training and development requirements. We'll be delighted to discuss your needs and deliver a programme for you.