Three decades of history & experience
From training courses...
to learning solutions...
to being a complete learning & talent development provider
Hemsley Fraser is a complete learning and talent development provider.
We have a long-standing reputation as a world-class provider of engaging, performance-boosting and change-enabling learning and development services.
Noted especially for our digital content, learning services, leadership development and large-scale strategic solutions, we are a one-stop shop provider repeatedly chosen by clients for our innovation, agility, world-class design, and results-focused delivery.
Through the creation of learning experiences that are tailored and managed for your workforce needs, we believe that talent development, done right, can have a transformative effect on people, organizations, and the experience of work.
Our E4 method
We feel strongly that successful experiences shouldn't be a 'one-time' event. A multi-phase approach creates much higher levels of engagement... and better outcomes.

Hemsley Fraser's 4E learning strategy ensures maximum transformational power.
Why we love learning...
Learning is essential to life
Learning is an essential part of being human. We learn all the time, even unconsciously. Learning is imperative to our survival and enables us to thrive. We love the fact this is what we do and how connected it is to the purpose of being human.
We believe in diverse thinking
Innovation happens best when there is diversity... Creativity stems from different views being fused together to create new ideas, products, processes, and services. Creativity is at our heart and has enabled us to grow and develop as a business and be brave enough to try new things.
We are passionate about people
Being human runs through all we do, how we learn, how we connect and engage, how we communicate, and how we create a sense of belonging and inclusion. We are passionate about our people but also passionate about your people and how to create the best environment for learning.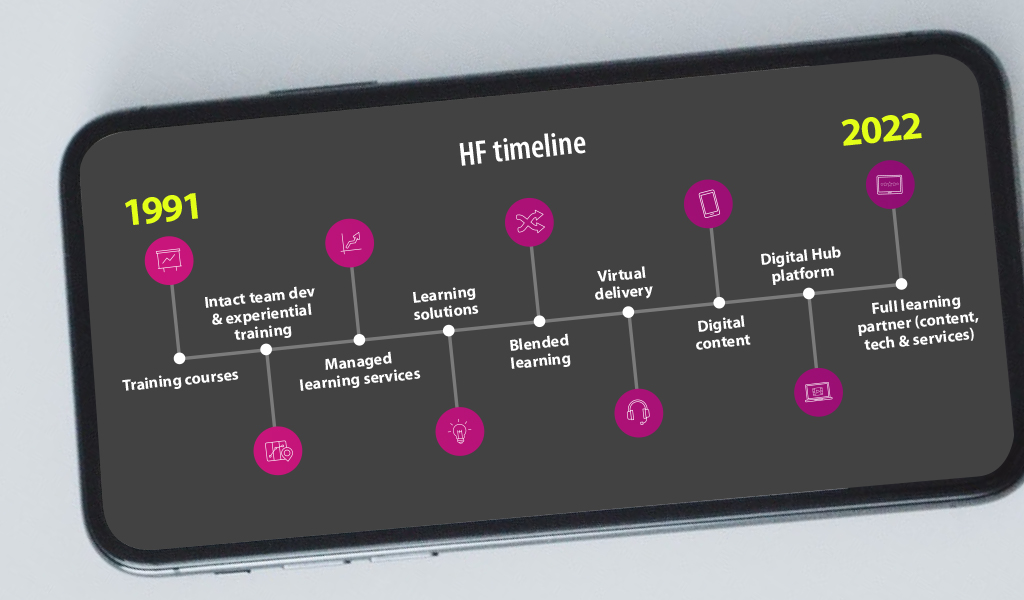 Our history
Hemsley Fraser started as a public training course provider in 1991, quickly becoming one of the leading soft skills training providers in the UK. After nearly 30 years, our business has expanded greatly and today we are a complete learning and talent development provider, with products and services spanning learning content, technology, and services.
Expanding our services to the US in 2006, we've since serviced over 30% of the Global Fortune 500, as well as partnered with several of the largest US government agencies. With a presence in the German Market since 2008 and the opening of HF Canada in 2019, we further expanded our international capability working with multiple DAX 30 Index companies.
Today, we operate in more than 90 countries, and nearly as many languages, with a vast global supply chain of industry experts at our disposal. 
Hemsley who?
Hemsley who?
What services do we provide?
Hemsley Fraser is a turn-key learning solutions provider, a consulting firm, an award-winning design house, a global delivery partner, and an industry-leading digital platform provider. All in one place. And all over the world. Trust us... someone is always awake when you need help.
Why haven't you heard of us?
You may have never heard of Hemsley Fraser before, but you have definitely heard of the many Fortune 500 companies who use us! We're actually pretty well known in Europe, in fact we were named one of the largest and fastest-growing distance learning companies in the UK.
What makes us special?
We are fast, flexible, friendly, and fun. And, obviously, good at alliteration! We are passionate about L&D and its broader impact on employee engagement, and think we've come up with some pretty innovative approaches to it. You'll love your learning experience...
... and you'll really love working with us.
At-a-glance
Facts about us & the industry sectors we work in
Headquarters in UK, US & Germany
35,000+ clients worldwide
Over 5,000 subject matter experts
Thousands of learning assets
In-house digital design studio
In-house learning design team
In-house enterprise solution management
Global content delivery team
Learn more about our global operations

Awards & recognition
Find out more about our awards & recognition, including Top 20 Leadership Training company & others...
Our people
Our people are the single biggest factor behind our success. Meet some of the team...
LET'S TALK
Why not speak to one of our friendly advisors?
Please chat, call, email, or make a quick inquiry using this short form.