The top 20 listing, compiled by the training industry's leading information source, signifies global learning providers' ability to provide learners, ranging from company leaders to front-line employees, with comprehensive offerings in different leadership topics across a diverse range of training topics and delivered through different customized modalities. 
Selection for Training Industry's list was based upon the key criteria of:
Breadth and quality of program and service offerings
Industry visibility, innovation and impact in the leadership training market
Client and customer representation
Business performance and growth.
This latest industry accolade marks another stage in Hemsley's ongoing evolution, helping organizations, leaders and employees worldwide adapt and get ready for today's complex and ever-changing world of work. Already well known as a leadership and people development specialist with a global client base, Hemsley has continued to innovate, creating engaging, rewarding and impactful learning experiences that are human-centric and enabled by technology, rather than being driven by it. The company recently marked its successful service evolution in the hybrid working age with a striking brand refresh.
Sally Hurrell, Interim CEO, Hemsley Fraser, said: "We are delighted to be listed in Training Industry's Top 20 Leadership Training Companies, which is an invaluable reference point for our customers and partners globally. To be recognized for 14 years in a row is testament to our passion and ability to evolve to meet our clients' needs. 
"We're committed to innovating, adapting and expanding our learning and talent development capabilities to help our customers in a hybrid world of work that is increasingly defined by continual change and digitisation."
Jessica Schue, market research analyst at Training Industry, Inc., said, "Our Top 20 Leadership Training companies list serves the learning needs of all types of leaders from front-line employees to executives. "The companies that make up this list strategically provide their learners with well-rounded offerings in leadership topics, such as agile leadership, women in leadership, conflict management and more. Along with many offerings, these organizations provide accurate and diverse metrics to help track learner engagement and reactions through assessments, ROI impact and more." 
Tom Whelan, director of corporate research at Training Industry, Inc., commented, "The unique and emerging companies chosen for this year's Leadership Watchlist bring specialized leadership content options from around the world. These companies bring a diverse set of training topics in different modalities, such as formal and live coaching, instructor-led courses, custom and off-the-shelf digital content, and simulations."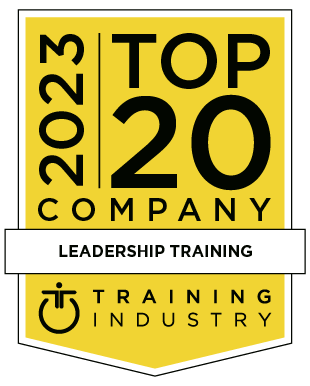 READY TO GET STARTED?
Why not speak to one of our friendly learning advisers?
Tell us more about your training and development requirements. We'll be delighted to discuss your needs and deliver a program for you.