This accolade marks the third recognition from Training Industry for Hemsley Fraser this year, having previously been named as one of the 2021 Top 20 Training Outsourcing Companies and one of the 2021 Top 20 Leadership Training Companies.
Upon hearing of their selection for this year's award, Lynsey Whitmarsh, Managing Director of Hemsley Fraser UK, said 'We are so proud to be celebrated once again as one of this year's Top 20 Online Learning Library Companies. Our successful digital and virtual capabilities have allowed us to demonstrate the value to be found in online and blended learning experiences, and just how important they can be in driving enhanced employee engagement.'
Hemsley Fraser's online library is complete with resources specifically designed for the virtual environment, supporting employees with a fast, flexible, and engaging approach. In addition to a diverse range of micro and nano learning media assets such as podcasts, e-books, animations, video, infographics and quizzes, Hemsley Fraser provide additional supporting technology and services to include expert-led training, coaching, engagement and success management, a hub learning platform, as well as full outsourced L&D support.
Businesses can select the specific resources and services to create agile and unique learning experiences which engage the learner, helping them to embed new skills and behaviours into their work, in support of the organisational goals.
Todd Turner, CEO of Hemsley Fraser, says 'Considering the challenge the past year has presented, it is more important than ever for employees to be able to access content virtually and within the flow of work, so we are especially proud to have been recognised in this category for 2021. More importantly, these assets allow us to rapidly create effective blended learning experiences that meet ever-changing client requirements.'
Selection of this year's Top Online Learning Library Companies List was based on the following criteria:
Breadth and quality of courses and content
Quality of features and capabilities
Industry visibility, innovation and impact
Strength of clients and geographic reach
Company size and growth potential
'This year's Top 20 Online Learning Library Companies are setting the standard for corporate learning libraries by providing comprehensive solutions that include an array of quality courses, resources, learning pathways and more,' said Ken Taylor, president of Training Industry, Inc. 'These companies offer up-to-date and relevant content that businesses need to virtually train and upskill their employees.' 
Hemsley Fraser is a turn-key learning expert driven to transform how people learn, engage, and develop in the rhythm of their work.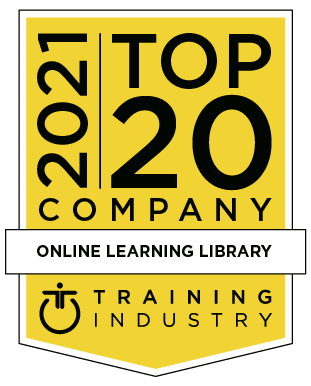 Continue to innovate with our content – collections of content focused on trending topics
READY TO GET STARTED?
Why not speak to one of our friendly learning advisers?
Tell us more about your training and development requirements. We'll be delighted to discuss your needs and deliver a programme for you.