Top 20

Online Learning Library

Company
This award is also the third recognition in 2019 for Hemsley Fraser, who have already been hailed as a top 20 training outsourcing provider and top 20 leadership training provider.
A highly visual user experience is a key component of Hemsley Fraser's approach, leveraging 'playlists' of blended content to ensuring a learning solution that is engaging, and that can be easily deployed and shared in minutes across the globe. Learners can choose from a myriad of asset types, including interactive fluidbooks, bitesize quizzes and video clips. The content is tailored to the organisation, or curated for the individual, and can be combined with face-to-face immersive training to create a blended learning solution. 
The award lists, compiled by TrainingIndustry.com, assess the companies that offer online learning libraries and select the very best from around the globe. Hemsley Fraser's selection was based on: industry visibility; innovation and impact; breadth and quality of courses and content; company size and growth potential; quality of clients; and geographic reach. 
Todd Turner, CEO of Hemsley Fraser, said: "We're very pleased to have placed on such a prestigious list for the third year in a row. In particular, this accolade recognises our commitment to digital innovation in learning, as well as the quality and design of our content library." 
 
"Our aim is to provide organisations with meaningful, curated and engaging content which will have lasting impact for themselves and their employees, so it is fantastic to receive acknowledgement for our learning hub", said Lynsey Whitmarsh, Hemsley Fraser's global Director of Innovation. 
"The companies selected for the 2019 Top 20 Online Learning Library Companies List are leaders in this sector of the learning and development market," said Ken Taylor, president of Training Industry, Inc. "These companies provide learning content that learners can access anywhere, at any time, and incorporate user experience features and personalisation to enhance learning."
"Hemsley Fraser Group introduced new technology that enhances the learner experience to ensure optimal performance of the learning library," said Danielle Draewell, market research analyst at Training Industry, Inc. "With content in 10 languages and support for single sign-on, its platform enables global organisations to localise for each learner's country."
Hemsley Fraser is a global solutions provider, offering a turn-key range of services that include design, content development, delivery, and administration of training programmes for their clients. There are over 2 million users worldwide of their online learning library.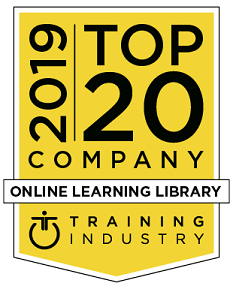 Have you considered Learning as a Service?
For those who want to make a big impact in a short period, we offer Learning as a Service. It's subscription-based, with a flexible, menu-driven array of services.