A Top 20 Training Outsourcing Company
Hemsley Fraser is proud to have been awarded this accolade for the past ten years running.
This announcement also represents the second accolade of its kind this year for Hemsley Fraser, which was recently acknowledged as a 2020 Leadership Training Top 20 Company by Training Industry. This recognition has also been given to Hemsley Fraser for the 10th continuous year, demonstrating the true strength of the business as a turn-key solutions provider.
Todd Turner, CEO, Hemsley Fraser, said: "To receive this accolade for the tenth consecutive year is a real testament to our organisation's ability to innovate and to react to worldwide trends in our markets. Although we're a global organisation with a strong client base, we're proud to retain the culture and flexibility of a boutique firm. Now more than ever, we need to be agile and responsive to our clients' needs, and I put our consistent success over the past decade down to this capability."
"The 2020 Top 20 Training Outsourcing Companies are an innovative group of organisations developing, managing and delivering training initiatives that create an engaging learning experience and improve employee performance," said Ken Taylor, president of Training Industry, Inc. "These companies offer comprehensive solutions that solve business needs for organisations around the world."
Selection in the list was based on the following criteria:
Industry visibility, innovation and impact
Capability of delivering multiple types of training services
Company size and growth potential
Strength of clients and geographic reach
Training Industry is the most trusted source of information on the business of learning. Each year it prepares the Training Industry Top 20 and Training Industry Watch List reports on critical sectors of the training marketplace to better inform professionals about the best and most innovative providers of training services and technologies.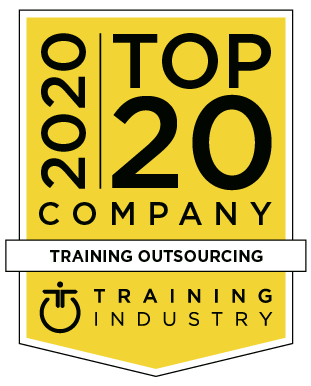 Have you considered Learning as a Service?
For those who want to make a big impact in a short period, we offer Learning as a Service. It's subscription-based, with a flexible, menu-driven array of services.