This listing highlights Hemsley's ability to deliver end-to-end or focused solutions for the outsourced management of organisations' training activities and processes. 
Relevant services can include content development, learning administration, learning delivery, vendor management, measurement and analytics, learning strategy and learning technology and more.
Training Industry established the Learning Services category in its industry listings last year  – replacing the Training Outsourcing listing – as a recognition of the breadth and pace of change in the learning sector.  
It's the second year in a row that Hemsley has been named in the Training Industry Top 20 for Learning Service and the 13th consecutive year that Hemsley has been recognised by Training Industry, Inc. for its outsourcing/service capabilities overall.  
Inclusion in this year's Top Learning Services Companies List was based on the following criteria:
Breadth and quality of learning services offered.
Industry visibility, innovation and impact in the learning services market.
Client representation.
Business performance and growth.
"The learning sector is so dynamic and seeing such rapid change and challenge that we are continually pursuing innovative and best-practice learning approaches with our customers and partners, so we are delighted to be recognised as a top market player," commented Sally Hurrell, Interim CEO, Hemsley Fraser. 
"We are committed to partnering around a full service offering that combines different content, services, platform and support systems to create highly-impactful and effective learning and development to our customers. We are delighted to have such a prominent industry endorsement that recognises the quality and breadth of the support we provide to clients."
Jessica Schue, Market Research Analyst at Training Industry, Inc., explained: "Our Top 20 Learning Services award winners stand out in the market because they are providing highly flexible end-to-end and customized learning solutions. These providers are helping deliver comprehensive learning solutions for today's organizations – right down to the individual employee's needs – through very effective content creation, learning technologies/strategies, administrative tools, delivery and more."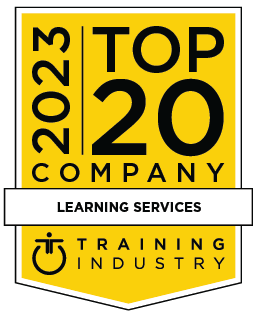 READY TO GET STARTED?
Why not speak to one of our friendly learning advisers?
Tell us more about your training and development requirements. We'll be delighted to discuss your needs and deliver a programme for you.