1. Bring us your problem/requirements
2. Look at our content and choose
3. Pick & mix a blend of modalities and content
4. Agree the learning journey
5. Get a quote and kick-off
Speak to us about how we can help you create a team training solution
Creating learning journeys that have impact
This example learning journey is for a global supervisor programme
The innovative blended learning programme was deployed with great success (and a few challenges along the way) and has already had a positive impact on the lives of our client's employees and culture.
The participant feedback on the programme was excellent - the overall impression was 4.7/5.0 with over 500 hundred responders.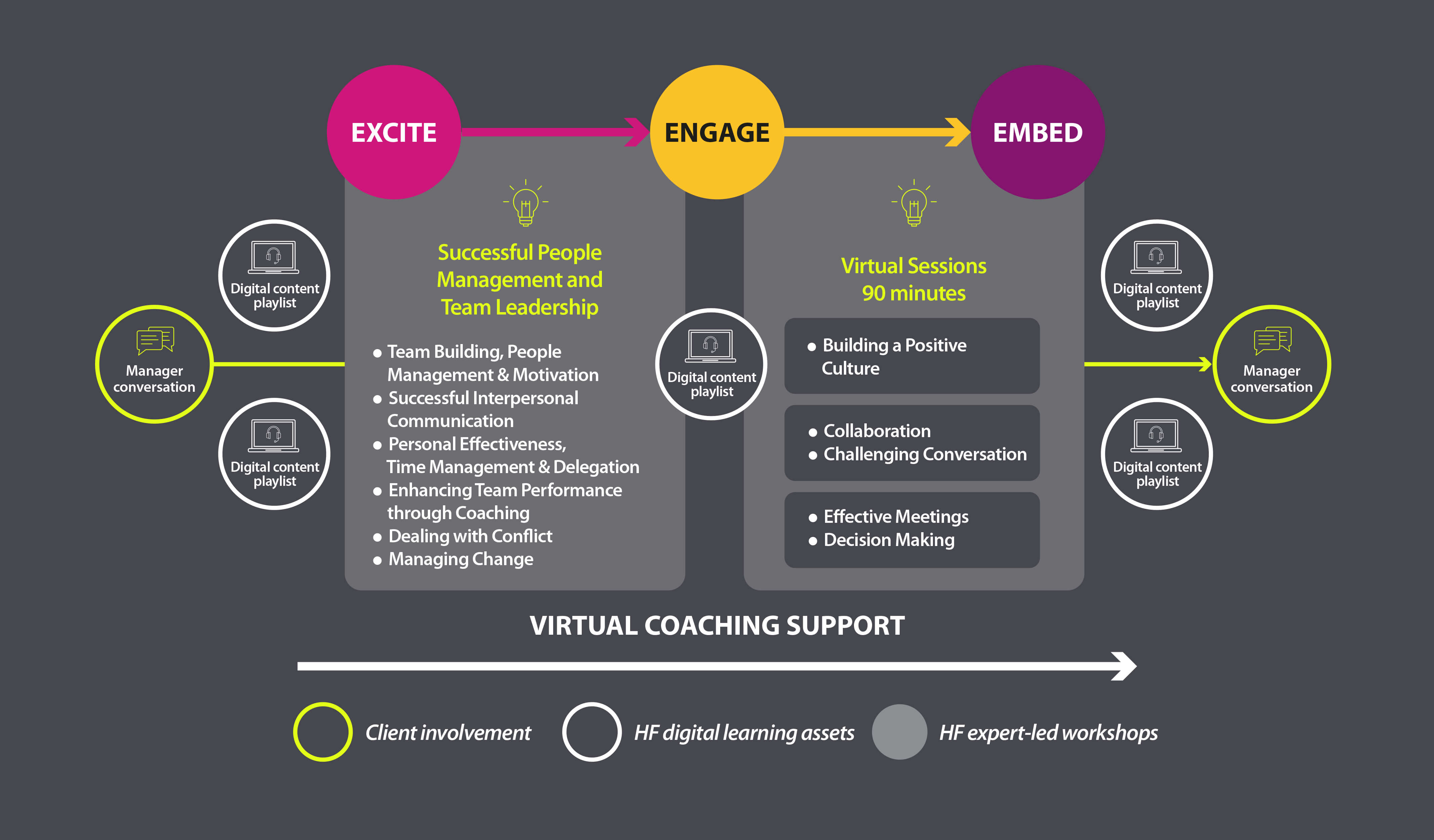 We are proud to have Hemsley Fraser as our partner with the Global Supervisor Programme
We have a truly innovative programme being delivered that will impact the lives of employees for years to come.
We've been designing and delivering training programmes for a long time now and if we've learned anything, it's that working closely with our client stakeholders to create a training solution with a custom feel can make a big difference. The learning experience needs to feel relevant and engaging to the learners and it needs to deliver the outcomes that the business expects. So whether you want a virtually delivered training programme, purely on-demand training, face-to-face delivery, or fully blended learning, speak to us about how we can help.
Should you consider Learning as a Service?
Learning as a Service is a cloud-based education subscription that combines individual and collaborative learning.

Award-winning digital learning library
Easy-to-use Hub content platform
Expert support & engagement services
Management-and-leadership
Popular Topics
All
Other business skills
Management & leadership
Personal development
Project management
Wellbeing & life skills
READY TO GET STARTED?
Why not speak to one of our friendly learning advisers?
Tell us more about your training and development requirements. We'll be delighted to discuss your needs and deliver a programme for you.
Popular Titles
All
Other business skills
Management & leadership
Personal development
Project management
Wellbeing & life skills