Whatever your business agenda—turnaround, growth, reinvention, merger and acquisition, survival—there is a corresponding skills agenda. For your business to survive and thrive you need to have the right skills and talent to innovate, create new products and drive transformation.
Four factors are combining and provoking a future skills revolution:
The pace of skills redundancy is increasing – estimated to be less than 5 years now
Future skills are changing – with new ones emerging or priorities altering
Skills gaps are intensifying – 87% of executives say they have important gaps  
How learning happens has shifted – with a step-change in digital and the emergence of hybrid learning.
For 45 minutes, the panel shared fascinating insights on the topic, along with actions they are taking. Here is a summary of the key themes, anonymised to preserve the confidentiality agreed with participants.
What are the most significant skills challenges for your business?
Naturally, certain challenges are business or industry-specific, but several key themes emerged including digital; data security; automation; hybrid working; complex problem solving, building rapport; empathy; innovation; and resilience; management and leadership
Not all businesses have fully defined their future skills as yet. Many are still in the foothills of conversations to identify the organisational capabilities needed along with the people, technology, process and organisational implications.
The intensity of some skills gaps is prompting businesses to cast their nets wider, beyond traditional sources. Relying on recruitment is no longer working, so they are searching for transferable skills in less likely places.    
What innovative things are you doing to develop future skills?
Many organisations are experimenting with new and different approaches. For some, restricted budgets are forcing some to be even more creative. Others are finding hybrid working throws up both challenges and opportunities.
"Necessity is the mother of invention"
Data is showing us that learners find video the most engaging format. Particularly on Tuesday apparently! Businesses are experimenting with how they produce and curate content. Some are introducing internal 'YouTube-like' channels with the content being produced and uploaded by their employees. 
Virtual reality is being trialled in some organisations. For example, virtual reality is being used for machine and safety training, resulting in productivity savings from not having to shut down production machines for training purposes.  
Many have also reviewed their external learning partners, working hard to find trusted providers that offer innovative, high-quality content that can easily be implemented via internal or hosted technology.
In addition to content innovation, some businesses are increasingly focusing on how they better embed the learning. Some are introducing learning pathways over six to nine months, as opposed to one-off courses. Others are weaving peer support with programme modules.
How are you encouraging people to upskill and reskill?
Organisations are coming to realise that the majority of their talent for the next 10/15/20 years is already employed – by them or someone else. As people are working longer, the need to re-skill will become more common and more necessary.
Most businesses are working hard to make learning easier to access and simpler to navigate. Demystifying and communicating future skills needed so learners can stay employable and relevant. Curation, signposting, grouping learning into academies, introducing 'guard rails' are being used to help learners navigate what is available quickly and easily.  
Helping learners own their learning is another theme. Many talk about being self-directed or even becoming the 'CEO of your career'. A few are starting to talk about sustainable careers – that are good for individuals, businesses, and society.
Encouraging continuous, lifelong and agile learning also featured. Some organisations are making the most of internal support through coaching, mentoring, reverse mentoring, or learning communities. Others are trialling learning apps where people can track their learning, being encouraged to learn one thing a day.  
Most acknowledged there is some way to go to be a fully-fledged learning culture, seeing pockets of excellence and good practice rather than a total picture. Some are beginning to explore shifting how mistakes or failure are experienced – how they could become a healthy part of learning. Others are working to equip managers to be great at development and career conversations.
Conclusion
To get ahead of the future skills revolution, you have to get involved – working with your colleagues to figure out what your future skills are, innovate and get creative. You need to shift up the conversations you are having as an organisation and build a strong network of support – internally and externally.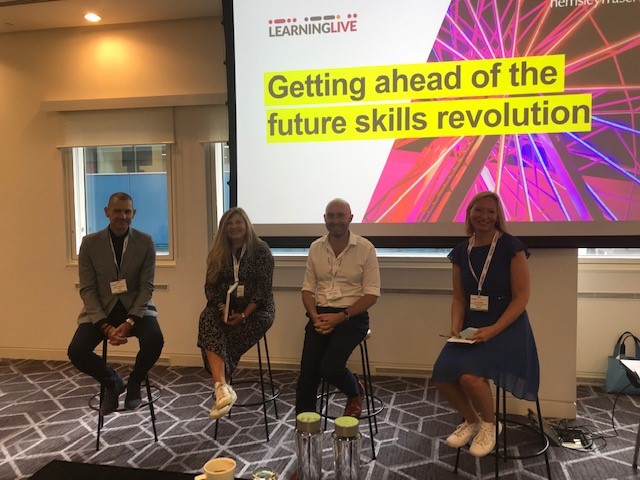 Have you considered Learning as a Service?
For those who want to make a big impact in a short period, we offer Learning as a Service. It's subscription-based, with a flexible, menu-driven array of services.